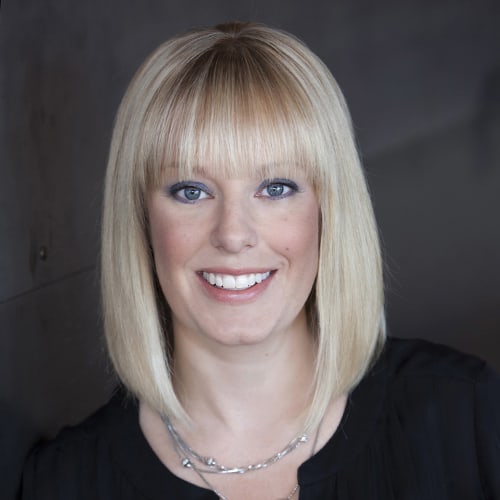 Senior Broker Associate
|
REALTOR®, CME
First and foremost, I love real estate and helping people make good real estate decisions. My husband and I have been buying and renovating homes in the Denver area for years. In my adult life, I have never owned a "move-in ready" property. In fact, we completely gutted our current home down to the studs and rebuilt it (while living in a hotel with our 14-month-old!). So, I truly understand how stressful things can be from my clients' perspective. Prior to becoming a real estate [...]
First and foremost, I love real estate and helping people make good real estate decisions. My husband and I have been buying and renovating homes in the Denver area for years. In my adult life, I have never owned a "move-in ready" property. In fact, we completely gutted our current home down to the studs and rebuilt it (while living in a hotel with our 14-month-old!). So, I truly understand how stressful things can be from my clients' perspective. Prior to becoming a real estate broker, I had a couple of subpar home buying experiences and I knew there was a better way for a professional real estate broker to serve buyers and sellers. So 10 years ago, I got my license and I have built my own real estate business on honest, ethical service tailored to my clients' specific goals. I truly enjoy building lasting relationships with my clients and strive to exceed their expectations on all levels.
Office Location
201 University Blvd., Suite 200
Denver, CO 80206
Contact Info
Specifications
Languages:
Specialties:
Service Area:
Erin's Testimonials
Erin was fantastic. I feel like we won the lottery when we were randomly connected with her as our agent after reaching out to PorchLight. She was excellent during every step of the process-- friendly yet professional and extremely knowledgeable in every aspect of the process. I can't recommend her highly enough. She's truly a gem!
- Meg D. & Shae B., Sellers
First time homebuyers here - and we owe it all to Erin! She was recommended to us by friends who bought their home with her help a few years ago. After having the fortune of working with her, we're thrilled to recommend her too. Erin's enthusiasm and proactive mindset kept us going over the course of our search. We often felt the stress of shopping in an extreme sellers' market. She never let us lose hope. She always seemed to know when to reach out and keep our [...]
- Marielle M. and Yev S., Clients
Erin Talburt is professional, fun, and the best possible guide when it comes to buying a first home. Erin worked with me for weeks prior to submitting an offer--honing my tastes and encouraging me to not lose hope for what I want. (Hard in this market!!) After weeks of what felt like tireless searching (I was completely impressed with her dedication to my cause!), we found a good opportunity. We were quickly under contract (thanks to Erin, I was able to sign while on a mountain bike ride!). [...]
- Jessica Kelleher, Buyer
Erin Talburt is hands down the best agent we have ever worked with. Our situation was both unique and difficult. Throughout an incredibly lengthy search for the perfect new home for our young family she counselled, advocated for, and assured us. She is thorough, creative, and caring. It can be difficult to find an agent who prioritizes building a quality relationship with clients rather than closing volume. If that's what you are looking for, Erin is the perfect fit. By the [...]
- Patrick and Caroline L., Clients
I cannot say enough good things about Erin Talburt. This lady goes out of her way to guide you through this drawn out process of selling a home. I would recommend Erin to anyone even thinking about selling or buying a home. She was always polite, punctual and more than knowledgeable about the whole process. I was blown away by Erin's hard work and 'let's get it done' attitude. She spent hours answering our questions using explanations we could understand. Everything about her [...]
- Donn Wegelin
Over the years we have purchased a number of homes but I cannot recall a realtor like Erin. She is phenomenal!! So helpful, so efficient, so competent & personable. We lived out of state which made our house search more difficult & Erin would create an itinerary that helped us make the most of our trips. We selected new construction, a first for us. She made the tedious process almost painless. If I couldn't locate one of the MANY builder forms, she would send another & was [...]
- Gloria and Robert Heinz, Homeowner
We recently worked with Erin Talburt on the purchase of our first home. Erin was AMAZING to work with. With it being our first home purchase we had a million questions and also weren't quite sure what we wanted. Erin was very patient and spent many Saturdays, Sundays and evenings with us showing us anything and everything we wanted to see. She searched high and low for the perfect house for us and because of her dedication to making us happy, we found the perfect place. During the entire [...]
- Jill and Ben, Buyers
Contact
Hi there! How can we help you?
Contact us using the form below or give us a call.
Hi there! How can we help you?
Contact us using the form below or give us a call.