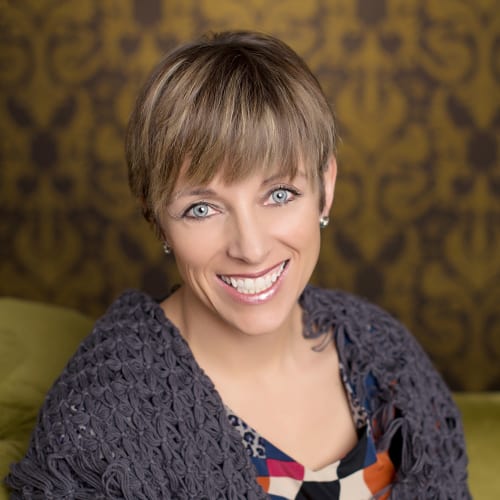 Broker Associate
|
REALTOR®
I am proud to say that I am not your stereotypical real estate agent. While I have had success in the greater Denver, Golden, Lakewood (and surrounding areas) real estate markets, I am just as likely to show up to our first meeting in running shoes with dogs by my side as in a designer suit and new hair cut. But whatever my attire, be assured that I will be THERE, 100% present and ready to listen to the most important person in the room – YOU. Managing the pieces and parts of a real [...]
I am proud to say that I am not your stereotypical real estate agent. While I have had success in the greater Denver, Golden, Lakewood (and surrounding areas) real estate markets, I am just as likely to show up to our first meeting in running shoes with dogs by my side as in a designer suit and new hair cut. But whatever my attire, be assured that I will be THERE, 100% present and ready to listen to the most important person in the room – YOU. Managing the pieces and parts of a real estate purchase or sale, is what I LOVE to do, and I do a great job! So rest assured that even when things get a bit chaotic (and they may), I have it under control and nothing is going to slip through the cracks. Even though I am not a bask-in-the-limelight kind of gal (in fact, I much prefer to work behind the scenes) and I cannot tell a joke to save my life, what I CAN do well is take care of the details of your real estate transaction. Read on if you would like to know more or email/call me if you would like to get the ball rolling! Growing up on a ranch in South Dakota taught me a little something about the value of working hard, working smart and creatively getting things done! All characteristics that come in handy when managing a real estate transaction, I might add! I take true delight in solving the seemingly unsolvable problems that inevitably arise during the process of buying or selling a home; problems that might make less-experienced, less-creative or less-tenacious agents throw up their hands in defeat. You will never doubt that I am on your side, representing your best interests and fully committed to helping you enjoy the very best outcome possible in your real estate buying or selling experience. Another thing you that might be helpful in getting to know me – I have a personal understanding of what my clients go through when buying, selling or renovating their homes. My husband and I have bought and sold seven homes in Denver and Golden, most of which needed moderate to extensive remodeling and updating. So, trust me, not only do I understand and empathize with the drama and trauma of MOVING; I am also intimately familiar with the joys and challenges of home renovation. And while I won't promise to pick up a hammer and saw at your new place, or to load boxes into your moving van, I am happy to share what I have learned about packing, moving and renovating properties. So, if it sounds as if we might be a good fit, give me a call and let's talk!
Office Location
3220 Lowell Boulevard
Denver, CO 80211
Specifications
Languages:
Specialties:
Service Area:
Jessica's Testimonials
We would like to thank Jessica Petersen, Jillian Smith and the entire Porchlight Realty team for the tremendous help and support as we sold our house last month in Sedalia. From the first steps of visiting our home to walking us through the complex process of closing documents, Jessica was amazingly patient and supportive. Porchlight has a thorough process and their materials for potential sellers provide a great guide in the best practices for getting your house on the market. Jessica was [...]
- Beverly Weaver & Peter Brown, Sellers
We have enjoyed working with Jessica so much. She did an amazing job selling our last home with excellent staging and marketing of the property. We had several offers in two days and went under contract right away! She also helped us to find our forever family home, which has been better than we could have ever expected. She is such a professional and caring person to work with and we would strongly recommend her to anyone buying or selling!
- Amanda Loecke, Homeowner
Jessica was very professional, helpful and effective in helping us find the home we purchased. Jessica also communicated with us on a regular basis to make sure we knew what to expect and when things would be due. I was very happy with Jessica and the PorchLight Group and will recommend to all our friends. Thank you, Jessica.
- Patty and Rick, Buyers
I met Jessica when she represented the buyer for my house in Washington Park. Because of her attentive, kind and professional nature, I decided to use her has my selling agent this past year. I can't say enough about her skills as a real estate broker
- Julie Jacobs, Homeowner
I live out of state and needed to sell my elderly father's house. Jessica came highly recommended by a friend in Denver who said her service and integrity were impeccable. I too, found her to be a personable and competent professional. She is well-connected and knew the right people to make his house shine and sell. She made managing the long distance sale easy. I am very happy I chose her to be my family's realtor.
- Teresa Ellington, Homeowner
Jessica was the perfect real estate agent. She was knowledgeable, professional, and able to use her connections in the industry to help us close our deal when we had last minute issues due to the mortgage lender we were using. I have already recommended that my parents and close friends use her, that's how much confidence I have in Jessica.
- Faisal Salahuddin, Homeowner
We have dealt with Jessica as sellers twice. The first time was with a competitor - more recently with Porch Light. In both cases, we cannot sing her praises loud enough. She is professional, competent, always upbeat. In other words, exactly what you need when trying to sell a home. We were initially put off by some of the conditions of Porch Light's contract, but because of our relationship with Jessica decided to continue. That proved to be a very wise decision. The company delivered [...]
- Donna Detter, Seller
Our experience with PorchLight, and specifically with Jessica Peterson as our agent, was fabulous and streamlined from beginning to end. Upon deciding to sell our home and reaching out to Jessica, we had a completely smooth and highly organized selling process. From providing a pre-listing home staging session, to laying out step-by-step instructions for how to maximize our home's potential, the team at PorchLight was flawless. During the showing and negotiating process, Jessica was [...]
- Randi Biard Fox, Seller
Contact
Hi there! How can we help you?
Contact us using the form below or give us a call.
Hi there! How can we help you?
Contact us using the form below or give us a call.