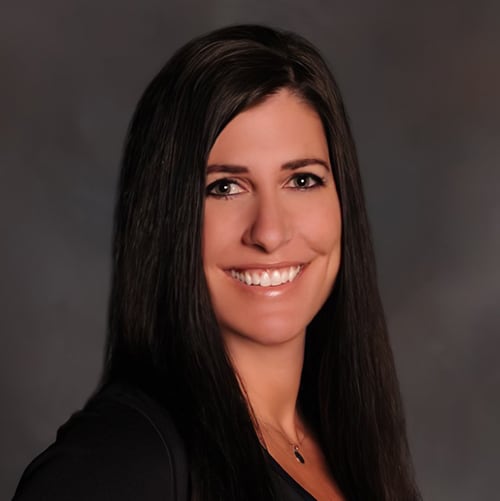 Broker Associate
|
REALTOR®, ASP
The biggest asset a Realtor can provide is clear communication, organization, strategy, and interacting with a wide variety of players to close the deal smoothly. Being a collegiate athlete, a volleyball coach, and a mom of three, I've learned and mastered these skills. My favorite part of real estate is putting these skills to use for my clients, who time and time again, have been thrilled with the value I provide....especially with one of the largest investments of their [...]
The biggest asset a Realtor can provide is clear communication, organization, strategy, and interacting with a wide variety of players to close the deal smoothly. Being a collegiate athlete, a volleyball coach, and a mom of three, I've learned and mastered these skills. My favorite part of real estate is putting these skills to use for my clients, who time and time again, have been thrilled with the value I provide....especially with one of the largest investments of their lives.
I became a Realtor because I truly enjoy working with people, and not only have I been in the industry in three states since 2005, but I've moved over 20 times myself. This has given me an innate understanding of the process from both the agent and the client side. As your agent, I will share my experience and knowledge, take the stress out of your buying or selling journey, and be your strongest advocate. You'll receive one-on-one attention and ongoing, honest communication. When you need me, I'll be there.
You can trust that I've worked with all types of clients and properties, including: luxury homes, new construction, first time home buyers, experienced investors, relocations, senior transitions, divorce sales, and homes on acreage and land with water rights, mineral rights, and oil/gas wells. I'm also an Accredited Staging Professional (ASP), so I will get your home ready to sell for top dollar.
When I'm not working with my clients, I love spending time with my children, traveling, concerts, hiking, volleyball, beer and wine tasting, and any chance I get to spend with friends and family. After years of moving around, I know that I have finally found my forever home here in Colorado. The state has so much to offer, from the sunshine and beautiful landscape to world-class skiing and hiking, local concerts, and the many breweries to explore.
If you're looking for an agent who will listen and understand your needs, then be there with you every step of the way, please reach out. I'll put my knowledge, experience, and positive outlook to work for you!
Office Location
2500 Broadway
Boulder, CO 80304
Contact Info
Specifications
Languages:
Specialties:
Service Area:
Lysa's Testimonials
As a first time home buyer, I had the most amazing and easy experience with Lysa Johnson and her team. I met Lysa several years ago and knew that her tenacious work ethic, loyalty, integrity, and honesty is what I needed in my first Realtor. She knew what areas would be the best fit and investment for me. She was readily available for any and all questions and concerns. Lysa's referrals for my Lender and Insurance company completed the overall package and I am one happy first-time home [...]
- Anita Wilke, Buyer
Our realtor Lysa Johnson made the selling of our home and finding our dream home so easy. The marketing and staging of our home were incredible. The house hunt for our forever after home was great. Lysa was a bulldog and determined to find the perfect home for our family. We are 💯 believers in our dedicated realtor Lysa Johnson...she gets the job done!
- Barb Fox, Seller
Lysa is just amazing. Not only is she knowledgeable and extremely hard working, she is also is very honest. Unlike other realtors we have worked with, Lysa will list your home at the correct price, and sell it in a very short time. She was able to get an offer on our home on the first day it listed! Additionally, she bent over backwards to help us find a new home- showing us countless listings, and making herself available for showings in a moment's notice. This is indicative of the [...]
- Tanya Santee, Client
My wife and I worked with Lysa Johnson and we cannot recommend her enough. We moved from out of state and Lysa was there to guide us throughout the entire decision process. Oftentimes, Lysa had to Facetime and take photos of potential houses for us since we were so far away, which was super helpful. She made us feel right at home in Colorado. Thanks again Lysa!
- Jacob Hershey, Buyer
Lysa is incredible! She took the time to really listen to our wants and needs to find us the perfect house. She truly has her clients' best interest in mind and takes the time to ensure that they feel comfortable throughout the process. She was our biggest advocate!! Could not have asked for a better home buying experience. Highly recommend Lysa and her team!
- Katie K., Client
We purchased a new construction home this past December, so the process was longer (6 months from contract to closing) and Lysa Johnson was on top of it every step of the way. She attended the pre-construction and pre-drywall meetings, went through our final walk through, and in every case she found things we wouldn't have seen and asked questions we wouldn't have known to ask. And, when the going got tough (and it did! with a closing date panic because of an oversight on the [...]
- Jamie Skerski, Buyer
We had a wonderful experience with Lysa and her team. From the beginning of the process, Lysa wanted to help us find the right house, not just a house. She was quick to get us showings, excellent about getting the answers we needed from the sellers, and so thorough in communicating with us. She eased a lot of stress in an otherwise stressful time to be buying a house. We would recommend Lysa in a heartbeat!
- Shannon Sullivan, Buyer
Lysa Johnson did an amazing job for us. She was very patient with us throughout the whole home-buying process, and always treated us with respect and respected any decisions we made. I never felt like she was trying to push any sort of agenda. Her communication skills were top notch, and she always remained calm no matter the situation. I couldn't have been any happier with our home buying experience with Lysa.
- Hannah Sutor, Buyer
Contact
Hi there! How can we help you?
Contact us using the form below or give us a call.
Hi there! How can we help you?
Contact us using the form below or give us a call.