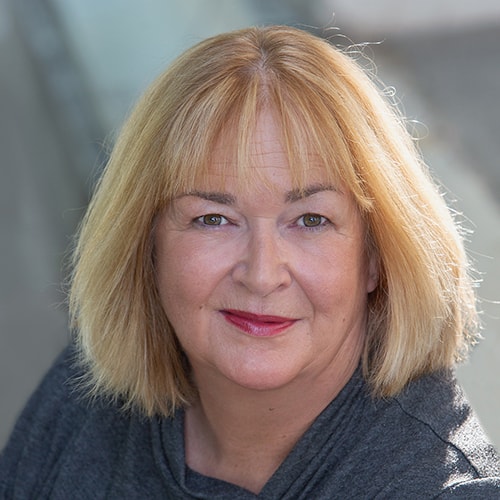 Broker Associate
|
REALTOR®, CNE, SRES
I love real estate. I love the entire journey—meeting new people, learning what they want, listening, being responsive, explaining the process and following up. I take pride in giving clients first-class, honest and professional service. My goal is to help you make smart and sound financial decisions in the sale and purchase of real estate. While I'm a long way from Ireland, where I'm originally from, I'm still passionate about everything Irish. I speak a little Gaeilge. Tá cúpla focal [...]
I love real estate. I love the entire journey—meeting new people, learning what they want, listening, being responsive, explaining the process and following up. I take pride in giving clients first-class, honest and professional service. My goal is to help you make smart and sound financial decisions in the sale and purchase of real estate. While I'm a long way from Ireland, where I'm originally from, I'm still passionate about everything Irish. I speak a little Gaeilge. Tá cúpla focal agam! Before coming to the States, I lived and worked in Denmark, Spain, Italy and Germany. I understand the stresses involved in moving homes and in a different language no less! I have a post-graduate degree in music and English. I'm an avid quilter and enjoy time with my family and friends. I have that dry Irish wit and enjoy people immensely. I'm happy to call Colorado home. I look forward to working with you.
Office Location
6759 E Belleview Ave
Denver, CO 80237
Contact Info
Specifications
Languages:
Specialties:
Service Area:
Mary's Testimonials
Mary was the absolute BEST to work with! She is very kind and caring as well as extremely knowledgeable! She helped us tremendously on what to look out for and things to really pay attention to when shopping for a home. If we ever had a question, she was very fast to respond (late nights, weekends, first thing in the mornings) and would always leave us with "Please call me at any time if you have ANY questions!" which we did several times. As we are first time home buyers, Mary [...]
- Drew & Jess, Buyers
I highly recommend Mary Ryan. She helped us find the perfect house. Our daughter has a lot of unique needs because of her lack of vision/hearing. Mary understood what we were wanting and was amazing. She also helped my best friend find a great house and she is currently helping my parents find a home. We came from out of state and Mary was wonderful. She went the extra mile, she got me a meeting with the school so I could sit down with the special needs teacher and make sure the school would [...]
- Kate W., Buyer
Mary Ryan helped us buy our first home and was amazingly helpful. She was very attentive to our needs and has gone above and beyond to help us. We are very happy in our new home and Mary still keeps in contact to make sure we are doing well and always has suggestions for anything we need. I would highly recommend Mary.
- Chelsea F., Buyer
We are so happy to have had Mary as our realtor. She is so hard-working, flexible, and willing to accommodate our needs. She is keen to find places that suited what we were looking for and made thoughtful suggestions. We enjoyed viewing homes with her, coordinating the negotiations with the closing, and ample advice. We appreciated her communication of timelines and keeping us the know. We highly recommend Mary to any home buyer and truly enjoy her attentiveness. So happy to have our new [...]
- Danitza H. & Matt B., Buyers
We recently worked with Mary Ryan on our first home purchase and had a fantastic experience. We browsed an open house, fell in love, and Mary helped us connect with a broker to be able to make an offer the next day! She has a wealth of contacts that enabled us to be able to work with trusted vendors throughout the other aspects of the home buying process. During every speed bump and continual moments of being nervous first-time home buyers, Mary helped us to find solutions that worked for [...]
- Burdock R., Buyer
"From the first conversation we had with Mary, she was absolutely phenomenal. She was honest, empathetic and thoughtful. My partner and I relocated from Pennsylvania, and while buying a home cross-country may sound stressful, Mary made it an absolute breeze. Mary spent countless hours on the phone with us going over the types of home we were interested in and never suggested any above our budget. When we were ready to look out houses in the Denver area, Mary lined up a full weekend of [...]
Aisury V., Happy Client
I just want to say that Mary is the best! She certainly is an asset to your company. I just want to thank her for making my home buying such a breeze and enjoyable experience. From start to finish she was thorough and complete in answering my questions and always keep me in the loop. I could always count on Mary being on top of things or ahead of things while going through the buying process. I went through three real estate agents before meeting Mary. She was the only one that took the time [...]
- Rick Kisser, Buyer
Mary Ryan did an outstanding job helping our daughter and son-in-law find the perfect home for their unique needs. When it was time for my husband and I to move, Mary went above and beyond for us! We were doing a multi-state move and Mary was with us every step of the way. She listened to what we wanted, and started looking for the perfect house for us, sending us updates and new listings daily. Once we came to the area to look and met Mary in person, my husband and I felt like we were [...]
- Charyl B., Buyer
Contact
Hi there! How can we help you?
Contact us using the form below or give us a call.
Hi there! How can we help you?
Contact us using the form below or give us a call.